RIVOLUZIONI CONTRO VENTO
eng
"REVOLUTIONS against WIND: bike and city" is a double workshop, held in parallel between Bari and Lecce, which places the bicycle at the center of political and urban discourse.
ita
"RIVOLUZIONI contro VENTO: bici e città"
è un doppio laboratorio, svoltosi in parallelo tra Bari e Lecce che situa al centro del discorso politico e urbano la bicicletta, intesa non esclusivamente come semplice mezzo di trasporto, ma come motore di un reale cambiamento socio-economico e ambientale.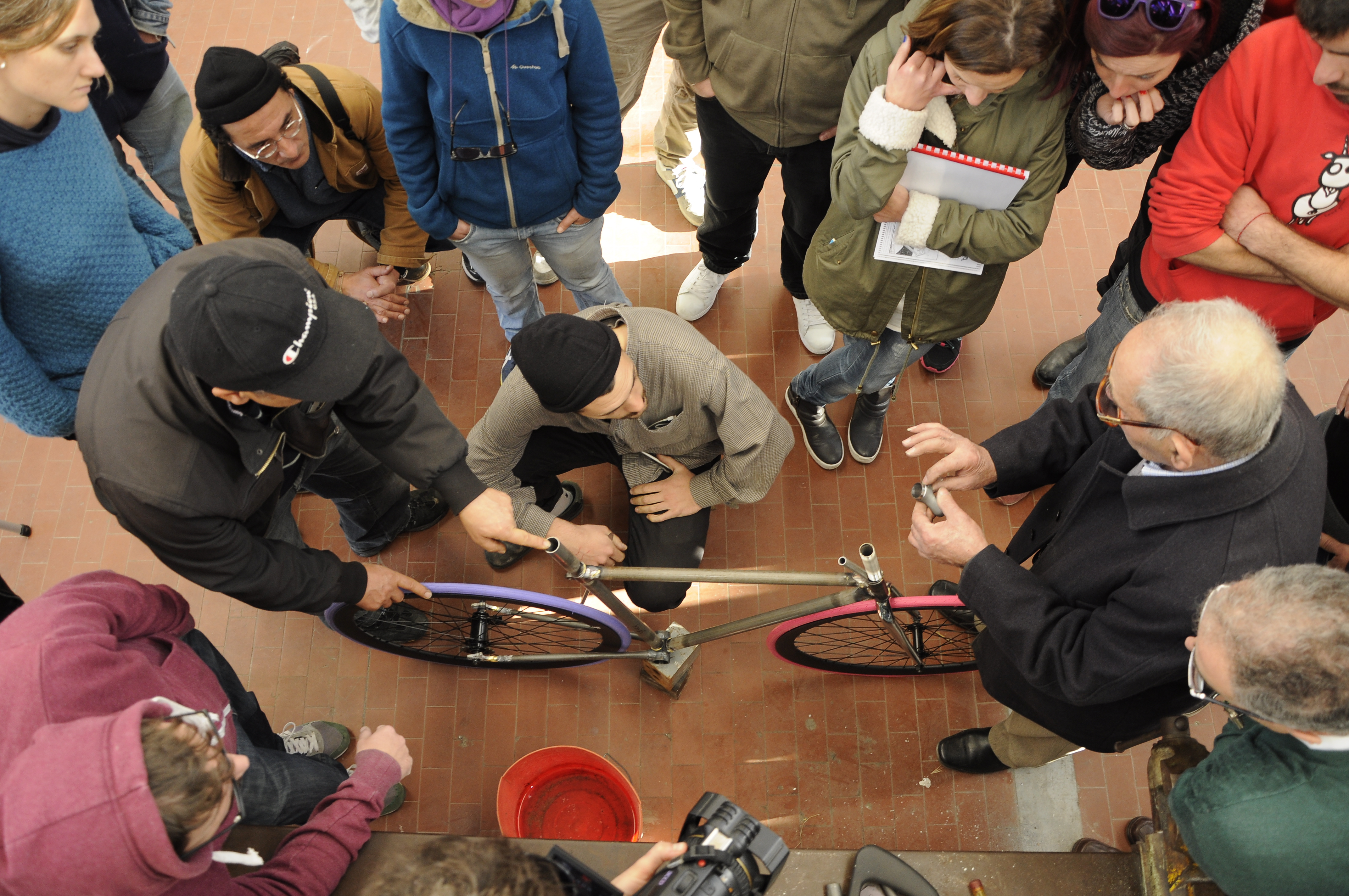 The bicycle is here understood not only as a simple means of transport, but as the engine of a real socio-economic and environmental change. The workshop was designed to teach practical skills for the construction of bicycle frames: bamboo-frames in Bari with GhanaBambooBike, steel-frames in Lecce with the master Carlo Carlà (Cicli Eolici Salentini) and Mattia Paganotti (Legor Cicli). These one-week sessions were followed by a workshop held by Julia D. Day (Gehl Architects) that introduced guidelines for the analysis of the mobility of Lecce. The area surrounding the cultural center 'Manifatture Knos' was the subject of study and redesign of cycling and pedestrian mobility.
Il workshop è stato ideato per trasmettere le competenze pratiche per la costruzione di telai di biciclette: in bambù a Bari con GhanaBambooBike, in acciaio a Lecce con il maestro Carlo Carlà (Cicli Eolici Salentini) e il giovane Mattia Paganotti (Legor Cicli).
Successivamente, Julia D. Day di Gehl Architects ha introdotto linee guida per l'analisi della mobilità della città di riferimento e, attraverso attività pratiche, l'aerea circonstante il centro culturale 'Manifatture Knos' è stato oggetto di studio e riprogettazione della mobilità ciclabile e promosso e ideato dall' Ass.Cult. J.A.N.U.B. e dall' A.p.s. Passi da Ciclope 2014 tra Bari e Lecce.

Finanziamenti:
Il workshop risponde al format di Laboratori dal Basso, misura promossa e gestita da Arti e dal programma regionale Bollenti Spiriti, e realizzato con il contributo della Regione Puglia (PO FSE 2007-2013).

Sponsor progetto:
attività commerciale Marangiolo s.n.c., attività commerciale Alberto Guido & Figli, Grafiche SquadLAB, Techno Italia
S.r.l.
Partner:
Ciclieolici Salentini (Monteroni), Legor Cicli (Barcellona), Zio Bici officina creativa (Roma), Comune di Lecce, Ass. Cult. Contropedale, Ass. Cult. Scie Urbane, Ass. Cult. Ruotando, Ciclofficina Popolare Knos, Ass.APS MO.bici, Ass. di volontariato Howlers, ciclofficina popolare Officine Tarantine, Ass. Cult. no.mo.fa.zu. Ghana Bamboo Bikes Initiative, Comune di Bari, Cooperativa Sociale C.A.P.S. – Onlus, Banca Etica, Azienda Servizi Municipalizzati – Molfetta, Associazione X-scape, Ditta "Planet Cycles".
Coordinatori:
Giulia Toscani e
Afro Carpentieri