La Ciclosofica
eng
The "Stazione Ciclosofica" (Cyclosophical Station) is a self-built bike-shed located between the two entrances (driveway and pedestrian) of the Manifatture Knos cultural centre. The bicycle is the object that weaves relationships, brings together places, imaginaries and people.

ita
La "Stazione Ciclosofica" è il progetto di una struttura per il ricovero di biciclette collocata tra i due ingressi (carrabile e pedonale) del centro culturale Manifatture Knos. La bicicletta è l'oggetto che intreccia relazioni, riunisce luoghi, immaginari e persone.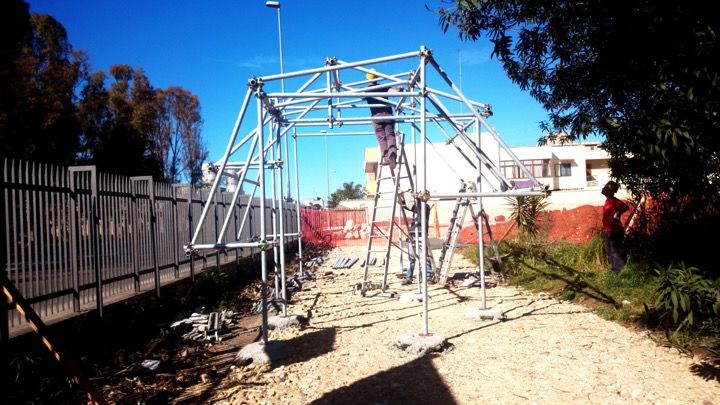 The design has been developed while two workshops took place: a workshop for the maintenance of bicycles with refugees and the workshop
Revolutions against the wind: bike and city
. They were meant to create interest and network and to develop awareness on the topic of bike-friendly cities and policies. The bike shelter transform the parking lot into a car-bicycle interchange point and transforms what is today the entrance to the Manifatture Knos area from a physical limit to an area of direct communication and exchange with the neighbourhood and the city. The construction site, through a workshop approach, brought together artists, craftsmen, apprentices and curious creatives involved in the cycling world.
Contestualmente alla progettazione, due workshop (Laboratorio per la manutenzione di biciclette con rifugiati e Laboratorio

Rivoluzioni controvento: bici e città

) sono stati organizzati con l'obiettivo di creare interesse, fare rete e sviluppare la consapevolezza rispetto al tema della mobilità ciclabile a Lecce. Il parcheggio funziona come nodo di scambio intermodale auto-bici e propone di trasformare quello che oggi si presenta come ingresso all'area delle Manifatture Knos da limite fisico a spazio di interscambio e comunicazione diretta con il quartiere e la città. Il processo di 'costruzione' è stato un cantiere con un approccio laboratoriale nel quale sono coinvolti intorno al tema della bicicletta artisti, artigiani, apprendisti e curiosi creativi.
Coordinatore:
Afro Carpentieri

Progetto:
Giulia Toscani, Afro Carpentieri

Strutture:

Luca Mengoli

Finanziamenti:
Provincia di Lecce

Realizzato
da Ass.....balalalala
Artigiani Locali convolti:
Dario Rizzello, Simone Fersino (Fucina del mediterraneo), Impresa Caracuta
Costruttori dell'immaginario: Marco Ferriero, Andrea Alba, Giorgio De Micheli, Sabino Tamborra, Marco Carlino, Cristiano Levantaci